1913, en pleine révolution démocratique chinoise. Le Général Tsao fait son retour à Pékin accompagné de sa fille Tsao Wan (Brigitte Lin), fraîchement rentrée de ses études à l'étranger. Celle-ci se mêle à un groupe révolutionnaire pour contrer les plans de son père. Au cours de sa mission, elle recevra l'aide inattendue de Sheung Hung (Cherie Chung) et Pat Neil (Sally Yeh), deux femmes elles aussi aux prises avec une hiérarchie masculine...
Lorsqu'il crée sa société de production FilmWorkshop en 1984, l'ambition de Tsui Hark est de présenter des films populaires et ambitieux, à travers lesquels il pourrait exprimer pleinement toutes les sensibilités qui le caractérisent. Jusqu'ici son côté expérimental (Zu les guerriers de la montagne magique) ou vindicatif (L'Enfer des armes) avait à chaque fois pris le dessus, provoquant l'échec commercial sans appel de chacun de ses films. Avec la FilmWorkshop, Tsui Hark souhaite désormais pratiquer un cinéma accessible tout en maintenant sa personnalité. Le premier film du studio Shanghai Blues, sera un beau témoignage de ces nouvelles dispositions. Cette charmante comédie romantique voyait Tsui Hark mêler son amour pour la screwball comedy américaine et sa nostalgie pour le Hong Kong d'antan. Peking Opera Blues, premier grand film de cette nouvelle ère va définitivement lancer la FilmWokshop.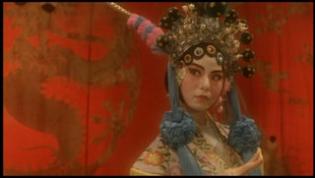 Tsui Hark avait déjà mis en scène des personnages féminins marquants comme la jeune fille rebelle de L'Enfer des Armes et la reine des glaces de Zu, cette dernière étant déjà jouée par l'actrice Ling Ching Hsia, véritable symbole de l'androgynie chez le réalisateur puisqu'elle sera plus tard l'inoubliable Asia l'Invincible, guerrier hermaphrodite de Swordsman 2.
Les rôles précités s'inscrivaient cependant dans des films typiquement masculins alors que Peking Opera Blues voit Tsui Hark laisser enfin éclater ses penchants féministes. Il ne sera par conséquent pas étonnant de voir les principaux thèmes et genres abordés s'incarner à travers les personnalités et le cheminement des trois héroïnes.
Ling Ching Hsia, déchirée entre ses convictions politiques et son amour pour son père (au détour d'une très belle scène entre les deux lorsqu'elle se démasque) trouve là son plus beau rôle. Femme d'action à l'allure – une nouvelle fois - garçonne et androgyne, elle délivre un mélange de force et de fragilité admirable. Tsui Hark lui réservera pour la seule scène où elle se montre vraiment féminine un des instants les plus charmants et légers du film, lorsque les trois héroïnes détendues se prélassent au coin du feu. A travers son personnage, Tsui Hark aborde certains sujets politiques qui seront au centre des thématiques des premiers volets de la saga Il était une fois en Chine. L'arrivée des occidentaux en Chine, les bienfaits (l'émancipation et l'éducation des jeunes Chinoises parties étudier en Europe) et les dérives (l'arrivée de la corruption, la disparition des valeurs de la Chine ancestrale) qui en découlent sont en effet une des préoccupations principales du réalisateur, moderniste et conservateur à la fois.
Le personnage de Sally Yeh (déjà présente dans le précédent Shanghai Blues et renforçant l'aspect diptyque des deux œuvres) symbolise ouvertement le féminisme du réalisateur. Celle-ci est frustrée dans ses ambitions d'actrice, les femmes étant encore interdites de scène à cette époque. Bien que tourné en dérision et plutôt attachant, son directeur de troupe de père représente pourtant toute cette Chine arriérée que Tsui Hark fustige par ses positions progressistes.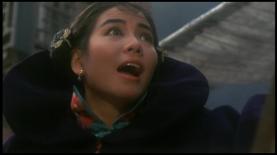 La troisième héroïne Cherie Lung compose quant à elle une sorte de petite sœur à protéger, très attachante, coquine et vénale à la fois. Dans un registre plus comique que les deux autres, ses multiples gaffes et actes intéressés font le lien entre les différents fils narratifs introduisant ses deux partenaires. Ses trois archétypes féminins installés, Tsui Hark va pouvoir laisser éclater un plaisir de raconter parmi les plus jubilatoires de sa filmographie.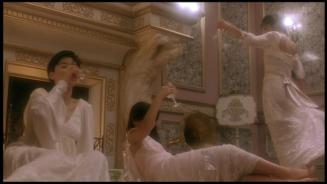 Après le très beau Shanghai Blues où il prenait ses marques sur une orientation plus grand public, Tsui Hark montre enfin dans Peking Opera Blues tous les éléments qui feront la domination de la FilmWokshop sur le cinéma de Hong Kong pour les dix ans à venir. La reconstitution historique tout d'abord, qui fera plus tard les délices des meilleurs films du studio, est ici de toute beauté. La fascination et la nostalgie de Tsui Hark pour un certain type de cinéma à l'ancienne s'expriment pleinement ici. Photo diaphane aux teintes bleutées, décors studio somptueux (la magnifique séquence sous la neige entre les trois héroïnes) et ambiance rétro, tout est fait pour caresser l'œil du spectateur par une esthétique chatoyante. Toute la "dream team" des bijous à venir de la FilmWorkshop est d'ailleurs ici réunie pour la première fois : James Wong à la musique, Ching Siu Tung qu'on ne présente plus à la chorégraphie, David Wu au montage et Poon Hang-Sang (à l'œuvre dans Histoire de Fantômes chinois entre autre…) à la photo.
Le tout se joue dans une intrigue trépidante et galvanisante où Tsui Hark convoque tous les genres. Typique de l'aspect "fourre-tout" du cinéma hongkongais, se croisent donc film historique, d'espionnage et grosse comédie dans le plus pur style serial, où rebondissements et coups de théâtres s'enchaînent sans répit. Le rythme haletant se fait encore tolérable en comparaison d'autres films plus frénétiques du réalisateur (tendance typique de la FilmWorkshop), en réalisant une de ses œuvres les plus accessibles.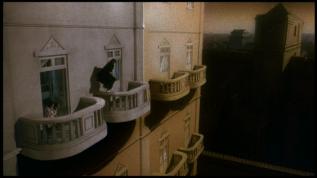 Le cadre du monde du spectacle s'avère particulièrement pertinent sur le fond comme dans la forme. Le personnage de Ling Ching Hsia joue difficilement son rôle d'agent double, fille aimante mais forcée de trahir son père dont elle ne partage pas les opinions politiques. Ce dernier ne lui en tiendra d'ailleurs pas rigueur lorsqu'il le découvrira, faisant passer avant tout sa fibre paternelle dans une scène d'adieu déchirante. Sally Yeh au contraire n'arrive pas à jouer son rôle de jeune fille chinoise modèle et introvertie, pour s'acharner à être elle-même par tous les moyens, une artiste de talent. Cherie Lung navigue elle de l'une à l'autre, cherchant sa personnalité, son « rôle » à tenir : amie sincère ou petite fouine vénale courant après son butin.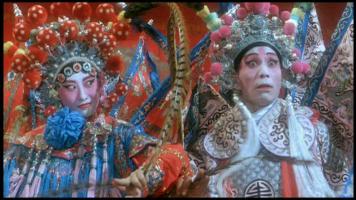 Il est donc normal que deux des meilleurs moments du film se jouent sur une scène. Une scène comique tout d'abord, dans laquelle Sally Yeh profite de la confusion pour enfiler le costume et enfin s'exprimer sur les planches, suscitant l'admiration de tous, avant qu'une Cherie Lung moins douée donne un tour plus ouvertement comique à cet instant. Vient ensuite la conclusion splendide où Tsui Hark livre sa réinterprétation de To be or not to be. Pourchassé par la police militaire, tous nos héros se réfugient dans le théâtre. Les hommes en uniformes assistent au spectacle tout en inspectant les lieux, tandis que les héros, déguisés et sur scène, s'éclipsent tour à tour des lieux au nez et la barbe de leurs ennemis. Cette ultime représentation se conclura par un moment épique : une course poursuite haletante sur les toits, anthologique scène d'action dont Tsui Hark a le secret.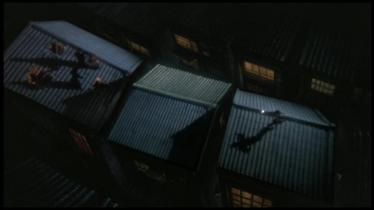 Parfait condensé du cerveau en ébullition de Tsui Hark, Peking Opera Blues sera un immense succès au box office de Hong Kong, mettant pour de bon sur les rails la FilmWorkshop, mais ceci est une autre histoire… De fantômes chinois...
Toujours inédit en dvd zone 2 français, se pencher donc sur la très belle édition hongkongaise parue chez Fortune Star et dotée de sous titres anglais.